Virginia man surprises wife with $1M winning lotto ticket for Valentine's Day
Feb. 18 (UPI) — A Virginia man surprised his wife with a $1 million winning lottery ticket for an early Valentine's day gift.
Terry Mudd purchased the ticket after forgetting to pick something up from his grocery shopping list, which he said is a regular occurrence, and scratched it off to find he'd won the game's $1 million top prize.
Mudd decided to surprise his wife, Madonna, with the gift as a Valentine's present, but gave it to her earlier in an envelope that read "Terry + Madonna's retirement" after they got into an argument about their finances.
The couple elected to take a one-time cash option of $657,030 before taxes instead of receiving the full million dollars over 30 years.
They recently purchased an RV and plan to travel across the country when they retire, although neither plans to retire in the near future.
'Rarest Penguin On Earth' Caught On Camera In Antarctica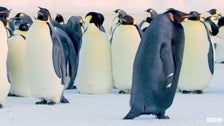 New footage from BBC America shows what just might be a one-of-a-kind emperor penguin. 
Unlike its famous black and white counterparts, this one is covered almost entirely in black feathers ― the result of a rare genetic mutation called melanism. 
"This could be the first-ever footage of an all black emperor penguin," the clip from BBC Earth's wildlife show "Dynasties" notes. 
While the mutation may appear from time to time, the dark color makes it easier to spot by predators, making it very unusual for a penguin like this one to survive to adulthood. 
"He or she could be the only one of its kind," the clip states: 
National Geographic has documented melanism on other types of penguins, especially the king penguins, which appear to have the mutation more often than others.
Look: Tractor seized after being used for drag racing in Britain
Rather unusual stop for team 1 tonight. Tractor stopped after being reported for drag racing motorbikes!
Vehicle was seized as the driver couldn't prove he was insured and was driving on red diesel.#driveinsured #2845 #1956 pic.twitter.com/QuFjFLcsnL

— Amesbury Police (@AmesburyCPT) February 16, 2019
Feb. 18 (UPI) — Police breaking up a late-night drag racing session in Britain ended up seizing an unusual vehicle — a speedy tractor.
Amesbury Police said they responded to a report of drag racing motorcycles in Wiltshire and ended up discovering the bikes were racing against a New Holland T6 175 tractor.
Police said the tractor was found to be running on red diesel, a duty-free fuel allowed to be used strictly for agricultural purposes.
"Rather unusual stop for team 1 tonight," police tweeted. "Tractor stopped after being reported for drag racing motorbikes!"
"Vehicle was seized as the driver couldn't prove he was insured and was driving on red diesel," the tweet said.
Corpse that prompted police to break into art gallery was a mannequin
Feb. 18 (UPI) — Security cameras at a London art gallery recorded police breaking through a glass door to investigate a "person" in distress that turned out to be a dummy.
A London police spokesman confirmed officers and paramedics responded to a witness report of a suspected corpse just inside the glass doors at The Factory art gallery in Dalston.
The security camera footage shows police reaching the supposed person and discovering it was a mannequin.
"Officers and LAS attended the scene. Officers were required to force entry inside," a spokesman told the London Evening Standard. "Upon inspection, the person turned out to be a figurine constructed from clothing and wires and was part of an art installation."
Kollier Din Bangura, 36, said the dummy was part of his solo exhibition about the experiences of refugees in Britain.
"I have used the same dummy before in other shows but this is the first time it's caused police to be called. When I came to the studio and saw the smashed glass, I immediately thought it had been vandalized. But the police left a note behind explaining what happened," Din Bangura said.
The note reads: "Police forced entry by smashing the window due to getting calls from members of the public regarding a dead body inside the building. If you have any issues please write to the Commissioner of the Metropolitan Police."
"There were posters on each door showing it was an art exhibition. I just wish they had looked at them and contacted the building's owner before smashing through the door," Din Bangura said.
Police in Wednesfield, England, found themselves in a similar situation last week when they responded to a report of a bloody hand floating in a canal. They discovered the item was actually a plastic hand painted to appear bloody.