Born to be Blue: Baby delivered aboard JetBlue flight
Feb. 17 (UPI) — "Born to be Blue" is the name of a JetBlue plane but it's quite fitting after a baby boy was born on that jet during a flight from San Juan, Puerto Rico, to Fort Lauderdale, Fla.
"Giving storks a day off. With mom's okay, we'd like to rename 'Born To Be Blue' after our newest baby blue and our youngest customer ever. More baby shower gifts to come!" the airline posted on Twitter on Saturday about the flight Friday night.
Ironically one day earlier — Valentine's Day — a woman aboard a JetBlue flight from Fort Lauderdale-Hollywood International Airport headed for Las Vegas was removed after she became angry because she was seated next to a child. She yelled expletives as was escorted off the plane by Broward County Sheriff's Office deputies, WFOR-TV reported.
It was happier times on Flight 1954 that departed from San Juan's airport and landed with the extra passenger.
During the two hour and 50-minute flight, crew and medical professionals on board helped an unidentified mother deliver the airline's "youngest customer to date," according to the airline.
Medical personnel met the 162-seat Airbus A320 plane in Fort Lauderdale when it landed at 11:24 p.m., according to FlightAware.
"We'd like to thank the crew and medical professionals on board for their quick action under pressure, and wish the new mother and son all the best," a statement to the Miami Herald read. "Flight 1954 was operated on aircraft N523JB, coincidentally named, 'Born To Be Blue.' "
The airline puts "blue" in its plane names.
"Each aircraft delivery is kind of like welcoming a new baby into the family," Tamara Young, the airline's corporate communications manager told Conde Nast in 2016. On our first day of operation [in 2000], an Airbus A320 dubbed BlueBird set out on JetBlue's first revenue flight from JFK to Fort Lauderdale. Since then, it's become a tradition to name every plane as it is introduced into our network."
WTVJ-TV obtained video that partly shows medical personnel treating the woman.
Yaqui Ramos, with JetBlue ground operations, posted photos on Twitter after arriving in Fort Lauderdale, including photos of medical personnel looking at the baby.
'Rarest Penguin On Earth' Caught On Camera In Antarctica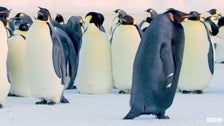 New footage from BBC America shows what just might be a one-of-a-kind emperor penguin. 
Unlike its famous black and white counterparts, this one is covered almost entirely in black feathers ― the result of a rare genetic mutation called melanism. 
"This could be the first-ever footage of an all black emperor penguin," the clip from BBC Earth's wildlife show "Dynasties" notes. 
While the mutation may appear from time to time, the dark color makes it easier to spot by predators, making it very unusual for a penguin like this one to survive to adulthood. 
"He or she could be the only one of its kind," the clip states: 
National Geographic has documented melanism on other types of penguins, especially the king penguins, which appear to have the mutation more often than others.
Virginia man surprises wife with $1M winning lotto ticket for Valentine's Day
Feb. 18 (UPI) — A Virginia man surprised his wife with a $1 million winning lottery ticket for an early Valentine's day gift.
Terry Mudd purchased the ticket after forgetting to pick something up from his grocery shopping list, which he said is a regular occurrence, and scratched it off to find he'd won the game's $1 million top prize.
Mudd decided to surprise his wife, Madonna, with the gift as a Valentine's present, but gave it to her earlier in an envelope that read "Terry + Madonna's retirement" after they got into an argument about their finances.
The couple elected to take a one-time cash option of $657,030 before taxes instead of receiving the full million dollars over 30 years.
They recently purchased an RV and plan to travel across the country when they retire, although neither plans to retire in the near future.
Look: Tractor seized after being used for drag racing in Britain
Rather unusual stop for team 1 tonight. Tractor stopped after being reported for drag racing motorbikes!
Vehicle was seized as the driver couldn't prove he was insured and was driving on red diesel.#driveinsured #2845 #1956 pic.twitter.com/QuFjFLcsnL

— Amesbury Police (@AmesburyCPT) February 16, 2019
Feb. 18 (UPI) — Police breaking up a late-night drag racing session in Britain ended up seizing an unusual vehicle — a speedy tractor.
Amesbury Police said they responded to a report of drag racing motorcycles in Wiltshire and ended up discovering the bikes were racing against a New Holland T6 175 tractor.
Police said the tractor was found to be running on red diesel, a duty-free fuel allowed to be used strictly for agricultural purposes.
"Rather unusual stop for team 1 tonight," police tweeted. "Tractor stopped after being reported for drag racing motorbikes!"
"Vehicle was seized as the driver couldn't prove he was insured and was driving on red diesel," the tweet said.